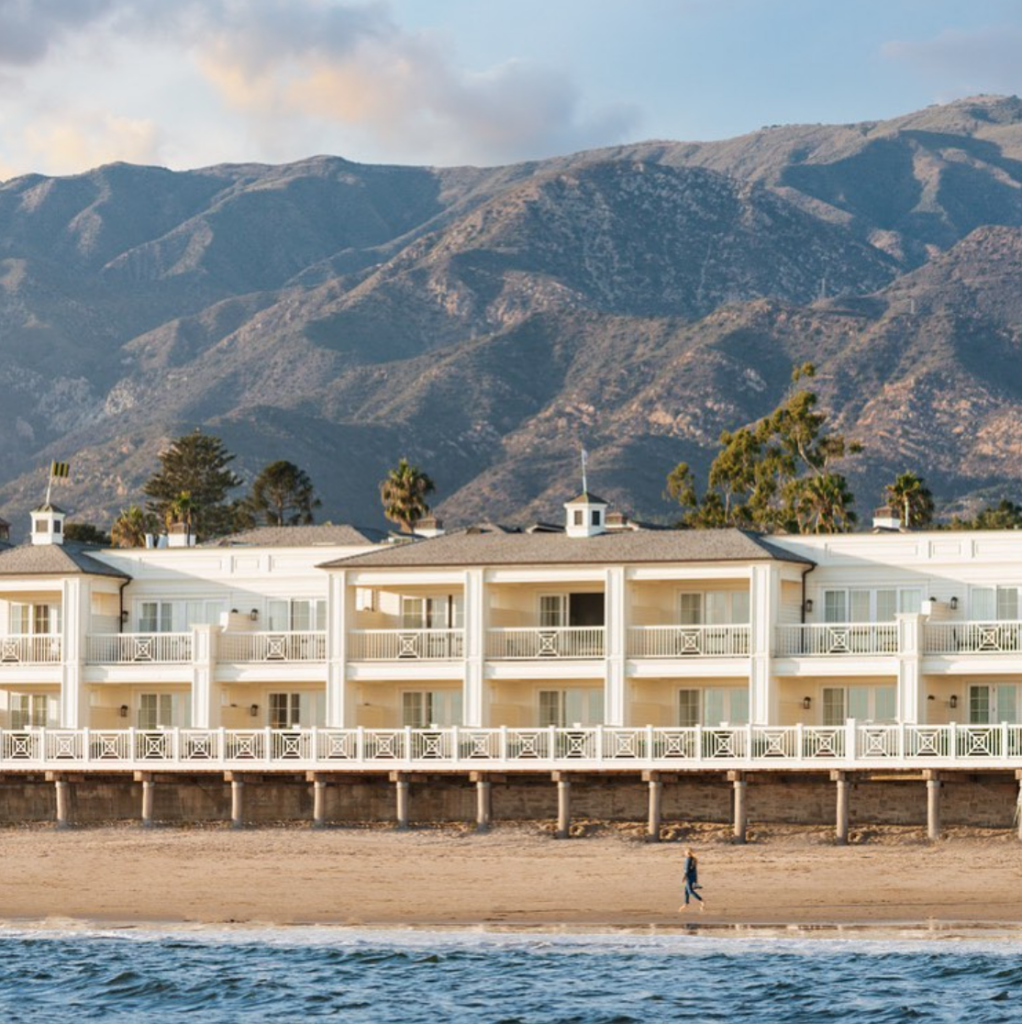 Trying to understand the allure of a place that's home to Oprah, the self-exiled royals, a celebrity juicer, Katy Perry's dad — and the New American Dream.
Are there Americans who don't have fantasies about a better life in California? About gold in the rivers, giant fruit in the yards and a hardcore, neon sunset every single night? The collective westward yearn is endlessly evolving and migrating around the very big state, sometimes dampened but never entirely silenced by stories about natural disasters and inner-city crime.
If property values, pop-culture mentions, and multipage Architectural Digest spreads are any indication, that yearn currently centers on the not-even-10 square miles of a not-even-town on the southern edge of Santa Barbara: Montecito.
A place whose desirability makes it clear that the current American dream is not about hustling to auditions or starting a company that changes the world — as the Californian fantasies of old promised — but instead is simply about being very, very comfortable as often as possible. If "wellness" were made manifest by a single dot on an enormous world map, that dot would land neatly on Montecito. It's where wealthy people who have succeeded in becoming their best selves go in order to maintain the exalted state.
It's an essential stopping place in the trajectory of modern fame, the place to go when attention grows onerous: Oprah Winfrey has a colossal spread here, and Ellen DeGeneres has a few. Montecito is where Gwyneth Paltrow goes when the pressures of Brentwood are too much. Adam Levine and some number of Ritchie sisters and their stylist are all residents, and Ariana Grande was, for a time, in a house she bought from Ms. DeGeneres. Jennifer Aniston bought a $16.5 million property from Ms. Winfrey, who had not had time to use it. Katy Perry and Orlando Bloom have a place there, as does Ms. Perry's father, who is endlessly bopping around town dressed in a psychedelic mash up of Chrome Hearts and Ed Hardy, an aesthetic that borrows equally from '90s O.C. skaters, Elton John and Flava Flav. Last year, the celebrity juicer Amanda Chantal Bacon moved to town, her suitcase packed with cordyceps, head scarves and health.
A driving tour of Montecito's elaborate and forbidding gates and lined driveways suggests that only Madame Tussauds has more celebrities per square foot, even if Montecito's celebrities — in their off-the-clock mufti of leggings and micro-weight Patagonia vests and dark baseball caps — can be harder to spot. Really, in the end, where else could Prince Harry and Meghan, Duchess of Sussex, have gone to live their truth?
But it's not just the famous who come to Montecito, it's also the straight-up rich. The writers of "Succession" situated the classy, stealth-wealth billionaire Pierce family in a home that, in real life, is owned by Google's former chief executive Eric Schmidt and sits just over the border in Santa Barbara. Montecito is loaded with the less-recognizable names behind very recognizable things, including Ty Warner, the press-shy inventor of Beanie Babies, who lives in a rose-colored mansion with views of the whole landscape.
It's a dizzying combination of old wealth, new wealth and outrageous physical beauty that has begun to attract an ever-wider range of dreamers. And that new level of visibility has the potential to rattle the whole thing.
Sweaters and Soup
Until a few months ago, I had never been to Montecito. In my mind, it was a place where evenings called for a lightweight cashmere sweater (they do!) and green juice ran through city taps (nope); a place so serene that there was no such thing as a bad night's sleep there.
My guide was Ashley McGowan, a third-generation Montecitan with long blonde hair and bright blue eyes who works in the family business: real estate. Ms. McGowan knows everything about every inch of the town: She spent her childhood running barefoot over the tiled floors and swimming in the pools she now markets. If Ms. McGowan's youth sounds idyllic, she is quick to point out that her grandparents, who described riding their horses through wild citrus groves when they wanted to see a friend, had it even better. "It's a pretty amazing way to grow up," she said. She's raising her own daughter here, watching polo and playing on the beach.
So what is Montecito really like? Pale, pricey, gently geriatric. In the most recent census, fewer than 1 percent of the town's 8,200 residents were Black. (Or: approximately 80 people who are not Meghan or Ms. Winfrey.) About two-thirds of the population votes blue, and the recent median list price for houses on the market was $6.75 million. Those houses sell fast, often over asking price. More than a third of Montecito residents are over 65 (this tally includes Carol Burnett), which is twice the national average. Elizabeth Colling, owner of the popular local restaurant Merci Montecito, describes a clientele keen for ever more soup.
The town's retail offerings tend to center on long, ivory cashmere sweaters, which you can find at various soothing destinations: a Jenni Kayne home store selling the designer's neutral-colored blankets and other Nancy Meyers-y things, or Wendy Foster, where you can keep the Meyersian dream going. It's all very Meryl Streep in "It's Complicated," which was filmed just up the road.
Montecito did, for a long time, stay — if not secret — relatively unmentioned, apart from the occasional little item about Ms. Winfrey's vegetable garden, or the fact that Rob Lowe is a Republican and lives there. The celebrities have always come: The small hotel in town was opened by Charlie Chaplin. Clark Gable and Greta Garbo both owned homes in town. So many glamorous Europeans came to Montecito during the first half of the 20th century that it got the nickname "The American Riviera." They built versions of their European country homes here — with the fabulous quality of the light and the spectacular waterfront views, who needed St.-Tropez?
This batch included Ganna Walska, a Polish opera singer and muse to Paul Poiret and Louis-Francois Cartier. She built Lotusland, an estate on 37 acres, and then sold off the bulk of the jewelry given to her by her six husbands over the years. (At one point, Ms. Walska launched a beauty line anchored by a signature perfume called "Divorcons.") She used the proceeds of the jewelry sales to buy and plant the most exotic species on Earth and create an otherworldly, climate-defying garden where cactuses and azaleas abutted each other to trippy, magical effect. Lotusland remains intact, a pet charity of Montecito's social set.
The thing about being rich in New York or Los Angeles is that wealth can insulate a person only so much. In New York you can spend $20 million for an apartment and find that the retail tenant in your building is a shop that sells rolling paper, glass pipes and the service of fixing your shattered phone. There might be a dead rat right outside, too.
Sometimes it is so quiet and so pretty in Montecito that I find myself wondering if this is what it's like to be dead.
A Hotel Brings Change
And yet Montecito is hardly immune to the catastrophes facing the rest of the world and, specifically, the natural disasters plaguing California.
But two years later, when the country shut down because of the coronavirus pandemic, a flood of people who had heard about this land of milk, honey and fine-gauge cashmere wanted to be there. The memory of the mudslide receded. It was hard to comprehend if you weren't actually there when it happened.
The second half of 2020 saw a 411 percent jump in real estate closings in Montecito. Prices skyrocketed in response, holding at about 25 percent higher than they were in prepandemic times. If you could afford it, where better to be stuck at home? Montecito is about 90 minutes from Los Angeles by car, and there are multiple commercial flights (not to mention a private airstrip) making the hourlong hop from Santa Barbara to San Francisco. Even when the pandemic trickled to its sort-of end, the new calculus of where it was possible to live and work when one was very, or even just kind of, rich, made this life — these Seussian flowers, these winding trails climbing up through the hills — feasible for more people than ever before.
A sampling of the housing market with Ms. McGowan revealed a hillside, bougainvillea-covered Spanish-style villa with hypnotic Pacific views by the famed local architect George Washington Smith for $11 million, and a chic renovation of a one-story ranch house around a planted courtyard — the kind of place where you would not just have friends over, but properly entertain — for $8 million.
The great irony of very expensive houses is that they are rarely the owner's only spot. Many Montecitans are only part-time. Like much of the rest of America, Santa Barbara has found itself in an affordable housing crisis. And as the area has become better known, the short-term-rental market has exploded, which has had the effect of making the primary-residence market more expensive than ever. It can feel like Montecito's most pressing problems are the problems of too much: too much desirability, too many people wanting a piece of the spectacular pie.
Das Williams, the supervisor for the first district of Santa Barbara (which includes Montecito), described the havoc that this specific brew could take on a town, and said he had grown used to Montecitan concerns. "When people come to me and say, oh this or that will be terrible for property value, I just say, 'Good!'" said Mr. Williams, who lives in nearby Carpinteria with his family.
There's no question that Montecito, like so many places, has changed, and not just from the rural, idyllic days of Ms. McGowan's grandparents. In March 2019, the Rosewood Miramar Beach hotel opened after a $200 million-plus restoration that turned an oceanfront property into what is arguably one of the nicest hotels in the country. The renovation was spearheaded by Rick Caruso, the billionaire shopping-mall magnate who lost his bid to be the mayor of Los Angeles last year. His campaign was heavily supported by many celebrities, Ms. Perry and Ms. Paltrow, both residents of Montecito, among them.
Mr. Caruso tried to tread gently. The hotel abuts a preschool, and during its construction, Caruso gave the children mini hard hats and windows onto the Richard Scarry-esque diggers-and-all scene. He has also embossed a personal mantra onto a northern wall of the edifice: "Lord, You have given us so many good things … give us one thing more … give us grateful hearts! … RJC."
(Apology and gratitude are common deflections among Montecitans. "I know, I'm so lucky, I know!" They say it all the time.)
But in the wake of the hotel's opening, even more celebrities and influencers — and all those hybrids of the two, all the people who have content to make and to sell — have swarmed, and this new group of them is geotagging like crazy. Spencer Pratt likes the macaroni and cheese at Lucky's! Jane Lynch's dog is a big fan of the local parks. Kourtney Kardashian and Travis Barker's lavish, Instagram-ready engagement ritual took place at the hotel in October 2021.
The Rosewood property also houses the Miramar Club, a members-only club for local residents that has a six figure initiation fee. It is the first beachfront alternative to the old-world Coral Casino up the road on Butterfly Beach — which is no less expensive, but is a far harder nut to crack. The casino, now owned by Mr. Warner, the Beanie Baby tycoon, closed at the beginning of the pandemic and has yet to reopen amid a bitter fight about the inclusion of Tydes, a restaurant helmed by the celebrity chef Thomas Keller that would open to the public. (The pool and other facilities would remain private.)
This all has the Montecito old guard up in arms: Is it really a club if anyone can stop by for a chopped salad and an iced tea? "A restaurant of this setting, standard and cuisine deserves buzz, energy and a vibrant ambience," Mr. Warner offered by way of a rebuttal.
Ms. McGowan, for her part, laughs it off. "You'll hear people complaining that you can't just walk into Lucky's and get a table anymore," she says, referring to the local steakhouse where the filet mignon is $88.
It's not just Ms. Kardashian and Mr. Barker, though. The paparazzi, who legendarily didn't bother with Montecito — it's much easier to score in Malibu, about an hour south— showed up outside a local preschool during Adam Levine's sexting scandal last year.
In October 2021, a local woman sent a screen shot of a mountain lion she had snapped from her home security camera to a neighborhood chat group: an exciting thing to share with some friends. Her phone began ringing right away: It was The Sun, it was The Daily Mail, all wanting to know, were Harry and Meghan in danger? The woman, who lived on the other side of the town, was confused. It has nothing to do with them, she thought.
But the reporters were not deterred: "Harry and Meghan's fears for their 'hipster' chickens after warnings about a giant mountain lion prowling close to their $14 million Montecito Manse," came the headline. The tabloids' readers now know Montecito: They know it is a place where people live lives that involve chickens of the exclusive Californian hipster breed.
Lotusland
Living with the threat of further natural disasters is a choice that residents of coastal California have been making for years, and scores of people have decided that it's absolutely worth the risk. (State Farm, Allstate, AIG and Chubb insurers, among others, disagree; all have stopped issuing new home insurance policies in the state.)
In January, on the fifth anniversary of the deadly mudflow, Montecito flooded again. Ms. DeGeneres, who was sheltering in place (her house is on high ground), posted a video of a creek on her property gushing water. "We need to be nicer to Mother Nature," she said, "because Mother Nature is not happy with us."
This time, far more people heeded evacuation warnings and left. Although there were other deaths in the state, Montecito was spared this time. Residents were home a day later, and then spent an uneasy winter calculating threat after threat as the state continued to endure alarming levels of wet. Recently, Ms. Chantal Bacon reposted her leaving-Montecito Instagram footage of a cute little Mini Cooper navigating high, brown water as the introduction for an online conversation with her followers she'd be hosting about death.
Montecito, and the embarrassing torrent of clichés it evokes, makes it easy to forget the threats. As I wandered around the near-psychedelic wonder that is Lotusland, I couldn't believe that just a few hours later I'd be back on a United Airlines flight to Newark, quietly navigating for the shared armrest in coach with more hostility than I'd felt all week.
When I'd first arrived, I sent a text to my husband back in Brooklyn suggesting that we, too, renounce our families and move West for truth and eucalyptus and blah blah blah. I sent more: photographs of a 70-year-old bonsai tree tucked beside a redwood, a trippy cactus forest silhouetted against the Santa Ynez, the Pacific stretching out before me.
"I think it's time to come home," he wrote back. "You do know about the Lotus eaters, right?"
A version of this article appears in print on July 30, 2023, Section ST, Page 8 of the New York edition with the headline: The Land of Milk, Honey and Fine Cashmere.
Please follow the link below for the full story: